If you have never been to this wonderful village, here are 4 reasons to visit Roccantica.
At La Sabina nel Cuore we love our territory and we are in love with the small villages.
Roccantica is a pretty village not too far from Poggio Mirteto (about 20 minutes by car).
Despite being one of the smallest villages in Sabina, Roccantica is full of monuments to discover.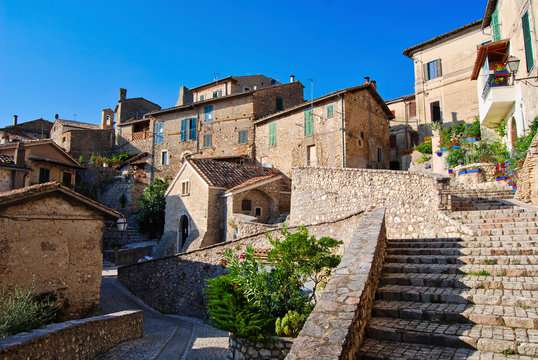 The Castle – Monastery of the Poor Clares

If you decide to visit Roccantica you will be lucky enough to walk among the small and characteristic houses of the city center, once part of the Monastery of the Poor Clares, also referred to as the Castle (once, in fact, here there was an Ursino Castle, built at the end of 1500).
The Medieval Tower

Not far from the Castle you can find the Medieval Tower, in the highest part of Roccantica. This tower, with a square plan, is surrounded by a triple wall.

Being in the highest part of the town, from here you will be able to admire the landscape of the Tiber Valley and Mount Soratte.
The "Madonna of Piedirocca"

Not too far from the tower you can find the small church of Piedirocca.

The Piedirocca church is so called as it is located at the foot of the fortress. Main local pilgrimage site, the church hosts the fresco "Mary Enthroned with Child".
The fresco is very important for the inhabitants of Roccantica, in fact every second Sunday of September is the feast of the "Madonna di Piedirocca".
Santa Caterina d'Alessandria
The church of Santa Caterina d'Alessandria is another monument that you absolutely must see if you decide to visit Roccantica.

This houses the frescoes depicting the life of Santa Caterina.